Good Times and Products Keep Rolling Out at Bazooka
We came into 2021 with the hope of interacting with all of our friends in the industry and showing what we've been up to. When that didn't look probable, we came up with a compromise and decided to try something we'd never done before. Show and tell before engineers completed their projects. *DUN, DUN, DUN
We held our third Unveiling event January 28 and only four remain, so you better get signed up.
Z's Catering and BBQ provided lunch for attendees to start the day. Following the shredded beef meal, Bazooka Farmstar's managing partner, Eric Hahn, took charge and got the introduction underway. A quick welcoming and it was time to let our guests get up close and personal with what we have been working on.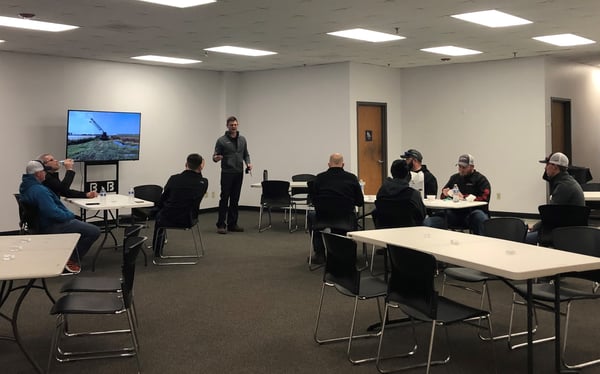 "We have some very exciting products and improvements that will be available to our customers," Jeremy Vittetoe, product engineering lead, said. "They (attendees) had the opportunity to see our equipment in one climate controlled place while talking with our sales team and engineers to learn how our equipment could improve their operation."
Our engineers led the discussions and guided our guests through the functionality of the equipment/enhancements.
"There are a lot of good improvements coming down the line," Ryan McClure, attendee, said. "They (Bazooka) are making changes all the time to help with the needs that are going on in the field. For a company like that to listen to the customer, that's huge."
We will be opening our doors every Thursday through February with only 15 people being allowed at a time due to COVID. These products will not be released for a few months yet, so if you want to know the secrets of what we are working on, you better sign up before all the spots are full.
"Come with an open mind and do not be afraid to voice your opinion on other changes that should be done," McClure said. "Even to prototypes."
"These events have been great for Bazooka and our customers," Vittetoe said. "Customers have had the opportunity to see our equipment and see the upgrades we have been making. It's also been good for us to get feedback from the dealers and customers on what we are doing well and where they see room for improvement."
In case you need more motivation to attend, click play on the video below.