If You've Visited Bazooka Farmstar, You Know
BIGGER THAN US GAMECHANGER

Linda Quigley.

A LOT has changed in the past 6 years at Bazooka Farmstar, just not the way Linda Quigley feels about coming to work every day. In 2014 she was looking for a change in her life that brought things closer to home. She saw the ad in the paper and shortly after began her career at Bazooka as the Administrative Assistant. Still to this day she keeps coming back because she enjoys the people and different daily adventures.

She was humbled to be recognized by her peers when informed she was being presented with one of the first-ever GAMECHANGER awards. She believes it is due to being reliable, adaptable, passionate, and loves working with others.

"My passion is working hard the minute I walk in the door until the end of the day. I enjoy coming to work and my work family. I get to talk to most of the employees and hope they know I care for them. I also enjoy being president of the Iowa Chapter of the Sons and Daughters of the Pearl Harbor Survivors... It is up to us to remember their sacrifice."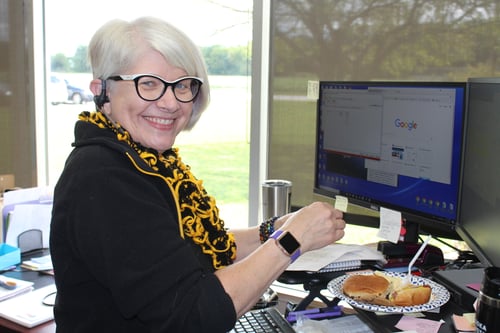 Linda is the matriarch of the office, keeps everyone in line (make sure you bring her a PB/chocolate rice crispy bar when you're in trouble- she's a sucker for those) and at the same time, makes sure everyone is taken care of. It's no wonder why she was selected as the first BIGGER THAN US GAMECHANGER award recipient.
She carries the same warm heart and passionate soul in her personal life as she does while at Bazooka. Even though the love of her life and husband Bill would say she is spoiled rotten! He is her home and everyday support system, while she is that to so many inside and outside the walls of Bazooka Farmstar.
Her GAMECHANGER not-for-profit donation will be given to Hospice of Washington. The organization and group of people were there for her family when they needed help with Linda's mother in her final days. Their warmth and kindness were a true blessing and gave them the chance to spend as much time with her as they could.
Linda has so many cherished memories of both her family and the Bazooka family too. She remembers the first time she put her feet in the ocean, which she attributes as the coolest place she has ever been. How mesmerizing it was to watch the waves clear the footprints off of the beach in Half Moon Bay, CA. That same kind of peaceful experience reminds her of her favorite thing to do in the days when she was younger. Which would be to spend hours (after chores of course) at the top of a pine tree in her backyard enjoying the view.
Her adventures with her Bazooka family look a little different. Caring for and corralling 110+ employees and customers is no small task! The experience she provides anyone walking in the door makes them want to stay a little longer.
"Bazooka never stops moving toward the future. Once you walk in the door you have a support system in place to help you through any bumps- we are a family."
If you've ever been through the doors at Bazooka Farmstar you know, that family starts with Linda.
[]
Want to meet the others? Thinking of becoming a GAMECHANGER too?
Check out our GAMECHANGER Recognition page for everyone's feature stories or our open positions on our Careers page.